There is Born to you this day in the city of David,
 a Saviour, who is Christ the Lord,
Glory to God in the highest, and on earth Peace,
Good will toward Men
Arthur and Ellen wish you Gods blessing through Jesus the  Christ in 2009
December 2008
Dear Friends,
Another year is almost over, and Arthur has had his last day of duty as Biometrician with NSW DPI.  He formally retires on 15th January.  It has pleasant to enjoy a retirement dinner on 11th December with a few people who have worked closely with him over the years.
<![if !vml]>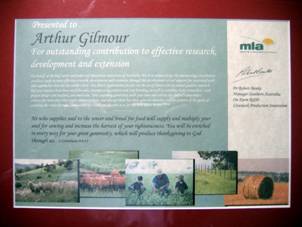 <![endif]>
This Christmas will be busy with everyone  expected home. I hope to update the pictures on http://www.cargovale.com.au before Christmas and you can read there more details of my future plans. 
Julie-Ann and Keith now have four children.  Sterling Arthur was born on 11th July.  He joins Poest (8), Daisy(6) and Truli (3).  They are well and busy as Julie-Ann soon returns to work full time at Koppers as a chemical engineer.
<![if !vml]>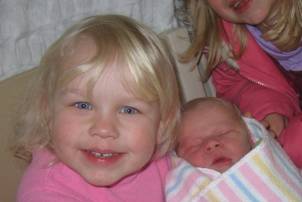 <![endif]>
Truli and Sterling
<![if !vml]>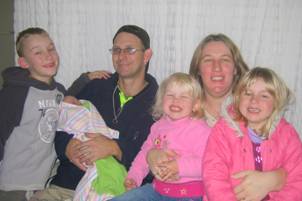 <![endif]> 
Julie-Ann, Keith, Poest, Sterling, Truli, Daisy
Kathleen, Kelvin, Hannah (3) and Hyland (21 months) (108 Last St., La Trobe, 7307, Tasmania) will spend the week before Christmas here at Cargo before spending New Year with the Smith family at Fish Creek.  I hope to update the pictures on http://www.cargovale.com.au . 
Lois has moved back to Orange and is sharing a house in Orange with Andrew.  She has just acquired a Golden Retriever and is working part time as communications officer with a disability group. 
Andrew has recently been working with Ellen as a part time cleaner at Orange Christian School and hopes to make that position permanent part time next year.  This leaves time for his computing interests.
While I was in England in January, Ellen popped her hip.  That meant 3 months off work but it has settled down again now.  She has continued cleaning this near but next year will just do her teachers aid roles. One of her projects has been growing Christmas trees, and she has sold a few this year.
This has been the wettest years for several years (750 mm compared with <300mm in two of the last 7 years). Five percent of the olives appeared to die last year but most recovered with the rain.  They are evidently very hardy.  It looks like we will have a harvest at Easter. The vegie patch now has lettuce, rhubarb, spinach, onion, beans, potatoes, sweet corn, rasberries and blackberries.  
After a flurry of marriages a few years back, the assembly has seen a string of funerals as the Lord has called a few of his older saints home.  But we have hope that as Jesus rose from the dead, so He will bring with Himself, those who have fallen asleep.  The Sunday School has continued with a small number but they are very enthusiastic and we are seeing their mothers.
<![if !vml]>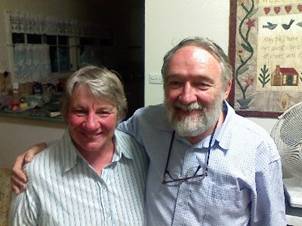 <![endif]>
Arthur expects to continue to work on ASReml and will (DV) visit New Zealand and USA again in 2009.  Other proposed projects include extending the shed to include an office, and investigating new on-air software for Rhema FM 103.5 where he continues as treasurer, and continues his daily bible reading program.  He can distribute these as .mp3 files on CD or DVD for any who are interested. 
The bible is so important because it declares God's yearning for our fellowship, and the wonderful promises to those who walk with Him according to the law of liberty and love. Do not neglect it in these last days before Jesus returns.
That day is not here yet so let us indeed seek every opportunity to pass on God's invitation to 'believe on the Lord Jesus Christ' and be saved.  It is a message for all men.
We celebrate the birth of one who lived without sinning, was convicted of our sin, died in our place, rose from the dead to show the price was paid, commanded His disciples to make disciples while He waits in heaven until the time set by the Father for 'the Day of the Lord'. 
May you serve Him faithfully in 2009.
Arthur & Ellen
15 Barragan Rd, CARGO, 2800
phone 02 6364 3288
mobile: 0427CargoV (i.e. 0427 227 468)
mobile: 0419 647 675 (ellen)